Getting to Lombok by public ferry
The Islands; Bali and Lombok separated by Lombok Strait.
If you travel on a budget, public ferry is the alternative mode of transportation to reach Lombok. It departs from Padang Bai (East Bali) to Lembar (West Lombok). Ferry service departing every hour, operating 24 hours.
Public ferry - Bali To Lombok
Public ferries' provide services for both passengers and vehicles.
The trip normally takes four hours (but it can be considerably longer in poor weather). This service runs 24 hours a day. It should be understood that this ferry has a poor safety record.
Disembark from Padangbai or arriving at Lembar Harbor
Do not let a local porter take your bags/luggage unless you have negotiated absolutely what you will pay before he puts his hands on your bags.
Best to avoid the service completely if possible as it can be fraught with complications over prices.

While they are cheap, it can cost quite a bit extra to get to Padangbai harbor so its worth comparing all alternatives.

Lembar harbor in the south west of the island is Lombok's main port and handles small freighters, fishing boats and the combination vehicle and passenger ferries heading westward to Bali.

PadangBai (also Padangbai and Padang Bay) is a small port town in East Bali, the port for ferry terminal from/to Lombok. Situated in Northeast of Gianyar 29 km, from Kuta 62 km, and from Denpasar 56 km. Padangbai can be reached from Sanur in more and less 1 hour.
Getting from Lembar Harbor
If you're arriving in Lembar and need transport, you'll find the Lembar bemo drivers hard bargainers.

If you want to be free from the hassles, you can call our office:
+62 817369010 (min. a day in advanced), or email us at: info@trekkingrinjani.com, so we can provide private transfer service and send our representative to meet you there with your name on his/her paging board. See our page for more info: Private Transfer (Point to Point)

Ready to serve 24 hours
Call Center (021) 191
SMS Center 08111-021191

Crossing By Public ferry Bali to Lombok and return

Tips: If you are leaving from Lombok, chances are high that someone will approach you and offer the ticket to Bali for same or cheaper than going the current rate of Rp 36,000 (March 2011). They'll also try to move you past official ticket offices (at the entrance gates of the harbor). It may be cheaper, however, you won't get an official ticket, or get only second part of it (the first one normally goes to the security on the pier). So, you may end up without a valid ticket and, if some security check happens, may have to pay again and suffer a lot of confusion. Just buy the ticket at the official ticket booth.
Stay safe
The ferries used on the run between Lombok and Bali do not conform to many Internationally recognized safety and operational standards. It is prudent to keep alert and be aware of your position and situation whilst on board and make yourself aware of the positioning of life preserving equipment. If inside the main cabin or below decks try to ensure you orient yourself to the layout of the ships decks and emergency exits especially if traveling at night. You should maintain a clear head and use caution at all times when embarking and disembarking as the decks and ramps can be slippery and the passengers can at times behave in a chaotic manner especially when disembarking.

Be aware that heavy vehicles as well as cars and motorbikes are moving onto and off the ships at the dock and will using the same loading ramp as the passengers. Be careful to keep track of your bags and watch out for pick pockets if in a crowd waiting to board or disembark.
Lombok To Sumbawa
Public Ferry from Lombok to Sumbawa, daily departure from Labuan Kayangan (East Lombok) to Pototano (West Sumbawa). Travel time is approx 1,5 hour.
---
Fast boat from Padang bai harbor Bali to Senggigi Port Lombok
The Fast Boats offers the quickest and easiest way to get from/to Padangbai (Bali) and from/to South of Bali at Serangan Harbor (Bali) to the Gili Islands and Lombok. it is a 100% domestic investment enterprise specializing in high speed boat transport and boat private charter. We are the new comer the fast boat service from Bali to the Gili islands and Lombok, but a 100% safety record. We put the emphasis on safety, professionalism and guest satisfaction in all fast boat, established in October 2013. Ownership: Balinese, established in Bali, Indonesia. We currently have more than 30 staff. All crew are fully licensed with requisite certificates of competence, and have many years experience in the waters around Bali and Lombok.

All trips include hotel transfers in Bali area, insurance, buffet morning coffee/tea prior departure and mineral water served on board. Our Check in point from our private facility in Padangbai Harbor ensures a comfortable waiting area upon arrival and departure, with toilets, showers and full restaurant facilities. Sphere of our operation is high speed boat transport from Bali to Gili Islands and Lombok.
Other book and reservation directly fast boat from Bali to Lombok and select arrive in Lombok harbor names
Fast Boats from Bali to Gili that have been active since the pandemic (2022 update) below;

Eka Jaya Fast Boat
Wahana Gili Ocean
Ostina Fast Boat
Golden Queen
D'Prabu Fast Boat
Invinia (Inami) Fast Boat
Starfish fast boat from sanur to Gili's via Nusa penida
Crossing Speed boat from Bali To Lombok and return

| | |
| --- | --- |
| Specifications: | |
| Length | : 18.4 m |
| Beam | : 4.10 m |
| Top Speed | : 45 knot (80km/hr) |
| Cruising Speed | : 30 – 35 knot (53 – 60km/hr) |
| Engines | : 5 x 250 HP Suzuki Four Stroke |
| Passengers | : 70 |
| Crew | : 5 |
Safety equipment and Facilities
3 x 25 inflating life rafts, with hydrostatic release and manual release; these automatically inflate if the boat sinks, or can be operated manually
EPIRB: Electronic Position Indicating Radio Beacon. When immersed in water the EPIRB automatically sends an SOS signal via satellite to the authorities, informing name of vessel and precise location. Continues to send signal for up to three days
SOLAS standard life jackets for all passengers and crew
Full set of distress flares in accordance with regulations
GPS Navigational system
Marine VHF ship-to-shore radio
4 throw rings
Electric flushing toilet
Spacious sun-deck on roof.
For Reservation Mahi Mahi Dewata fast boat in Bali
info@mahimahidewata.com
booking@mahimahidewata.com
Hotline +623618491541
Fast Boat Marina Srikandi from Bali to Lombok
Marina Srikandi 8 will begin operating around the 3rd week of December 2012. The route will be opened directly from Padang Bai harbor Bali to Senggigi Lombok 4 times a day. Marina Srikandi Super Fast Ship 8 is the latest, largest and fastest of the first times in history operated for Bali-Lombok. "The decision of the route of Padang Bai - Senggigi is part of our focus on open access Bali – Lombok to bring more tourists back to the area of Senggigi and simultaneously raise the profile of Marina Srikandi, this is a dream that has long buried deep in the heart.
Sounding and Promoting tourism destinations will not be successful if it is done about promotions and events only if it is not coupled with the ease of access. Why current visit to Gili so large and become better known and even impressed a stand-alone tourist destination compared to Senggigi Lombok? this is because of its ease of access. Connection Benoa Bali and Gili Islands are so close and continuously emitted as a sustainable tourist destination. Marina Srikandi 8 present to a marine transportation facility that will open up greater access to Senggigi which already has a good tourism concept. The road width and the government's commitment to public facility is very supportive. The launching of this new route with the new and biggest Ship will be held on December 18, 2012 at the Sheraton Senggigi, will open the opportunity for a close look at all aspect of this Super Fast Ship and also for a test of the speed of this ship. The colleagues from Travel agents, hotels, department of tourism and the communities involved in tourism will be invited to this event

Having 138 seat, fully air-conditioned, 8 x 300hp Suzuki engines 50 knots cruising speed, route Padang Bai - Senggigi be reached in just 40 minutes. Marina Srikandi 8 also is equipped with a safety demonstration in the monitor screen that makes all passengers feel comfortable Currently Marina Srikandi also has operated 2 speedboats to Gili with capacity of 80 passengers. For Senggigi route, Marina Srikandi gives special price during the promotion , IDR 250.000 for one-way ticket prices for foreigner and the local guest. And also provide FREE shuttle service (pick up point) at Bali such as at Denpasar, Sanur, Nusa Dua, Kuta and Ubud and at Lombok passengers will be served a shuttle to all Senggigi resorts while for the area of Mataram

Marina Srikandi Fast Boat 1, 2-8 operate from Padangbai (Bali) to the Gili islands (Gili Trawangan and Gili Air), Marina Srikandi. 8 of Padangbai to Lombok Senggigi.
Schedule Marina Srikandi fast boat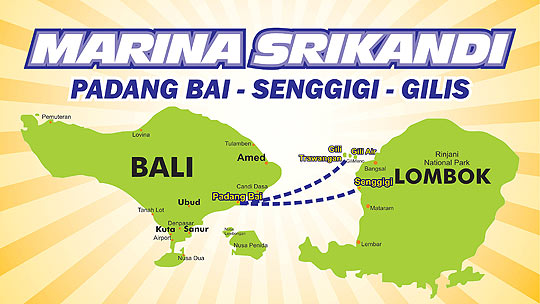 Marina Srikandi Regular Schedule
New Schedule Start from March 06
Marina Srikandi Head Office
Jalan Suwung Batan Kendal No. 8C Denpasar
Ph. +62 361 729 818
Other book and reservation directly fast boat from Bali to Lombok and select arrive in Lombok harbor names below
Fast Boats from Bali to Gili that have been active since the pandemic (2022 update) below;

Eka Jaya Fast Boat
Wahana Gili Ocean
Ostina Fast Boat
Golden Queen
D'Prabu Fast Boat
Invinia (Inami) Fast Boat
Starfish fast boat from sanur to Gili's via Nusa penida