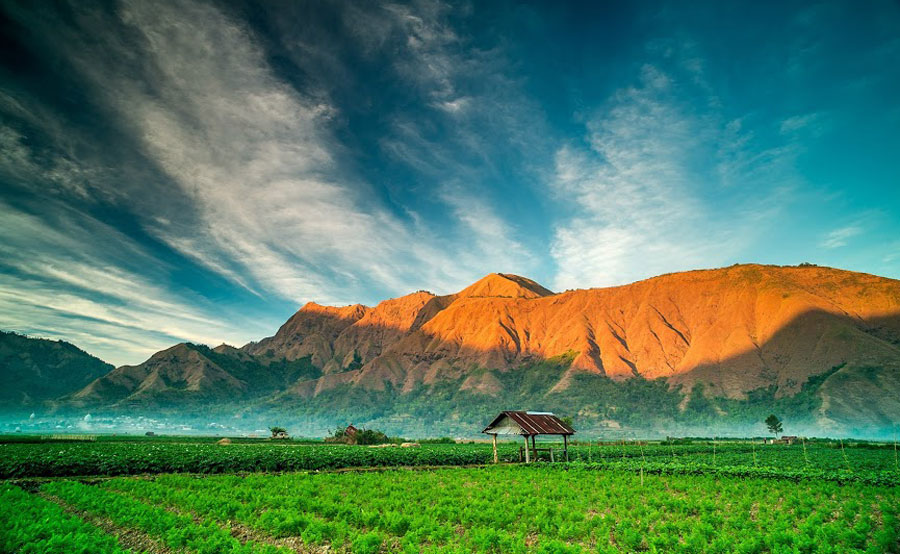 Sembalun Area
Sembalun regions divided into two villages, i.e. the Sembalun regions Lawang Village and the village of Sembalun Bumbung as far apart as 2 km. traditional two villages the famous village has a lot of history about the Sasak people. The area looks like a lake dried up, turn into fertile soil.

Sembalun regions, as the attractions are well known both within and outside the country, because from this village climbers began hiking to the Summit of Mount Rinjani in order to enjoy the beautiful landscape. In The Village Of Sembalun Lawang. There's a village Beleq, where you can see the traditional houses artifacts of the local community, the tomb of Majapahit Sembalun regions or Gajah Mada and traditional dance Tandang Mendet from the local community. There is a large statue side gate in Sembalun Lawang two large ' onion ' indicates that this area was once one of the largest producers of onion (onion)/garlic (garlic)/red onions (shallots) in Indonesia.

In Sembalun Lawang is the Rinjani Information Centre. Nearby is the Rinjani Volcanology default. To the West, there is the project's main greenhouse using hydroponics and soil engineering there, producing vegetables for the local and export markets.

Get in

Most visitors arrive via the village of Senaru (600 m), on the northern side of the mountain and thus closer to the main resort areas of the west coast including Senggigi. The other possible entry point is Sembalun Lawang (1150 m), on the eastern side, which is closer to the summit. Both villages are accessed from the main north coast road.
Room Lembah Rinjani Hotel for the first night before trekking to Mt Rinjani in the morning
Lembah Rinjani Hotel is a friendly place to stay overnight in the Valley of Mount Rinjani. Surrounded by traditional villages of the beautiful Sembalun Lawang and it's lush green mountainous areas around the slopes of Mount Rinjani mighty as the highest peak in the southern part.

Cool weather is very comfortable for overnight House which is set in the form of bungalows, there are fields of vegetables and beautiful garden with two large gazebo and a small one, it has 10 comfortable rooms and observe the private veranda and bathroom in each room.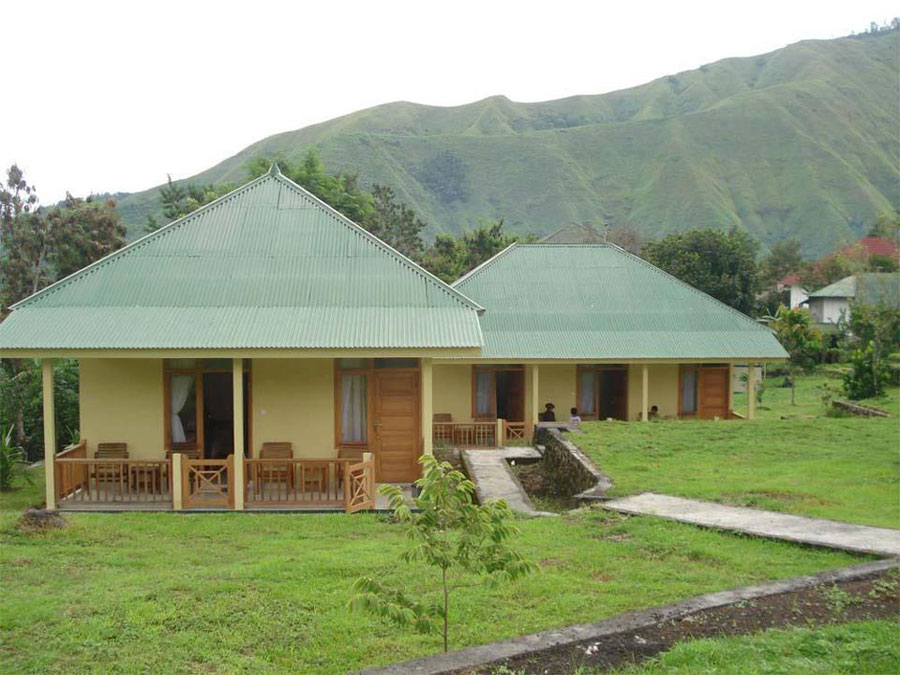 In addition, there is a pretty little restaurant we can warm the cold temperature of the favorite dishes of Curry Chicken, fried rice, many other menus are available at all times. Our staff attend to your every need.

In addition, Lembah Rinjani Hotel is one of the main defaults of the nearest to start climbing that makes it easy to climb the highest peak of 3726 meters. If you do not want to hike, you can observe the atmosphere of a cozy and relaxing sitting at home or you can drive around to explore the beautiful scenery and hunting with a camera in the surrounding area.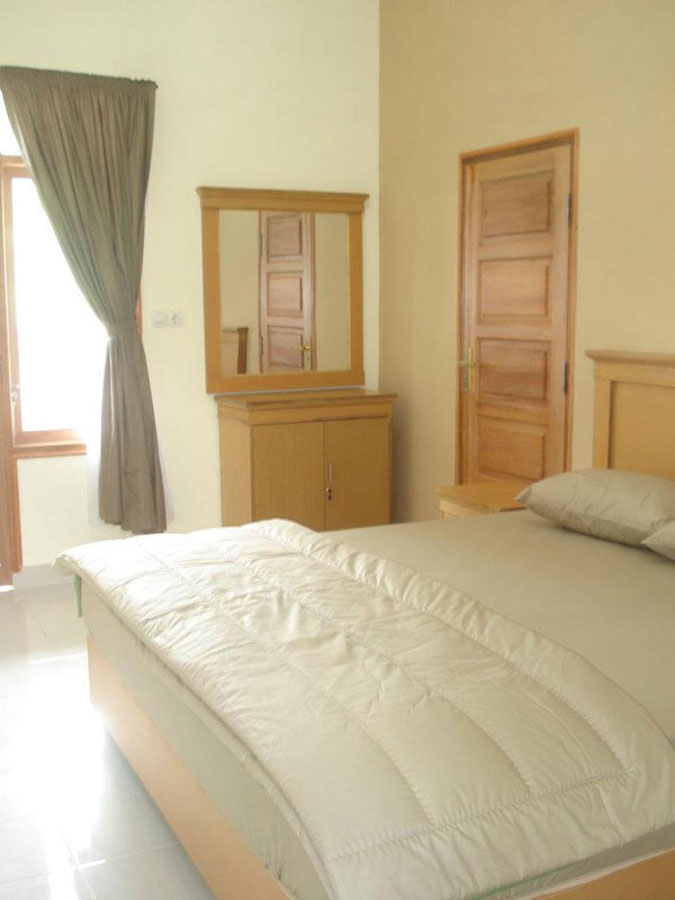 Lembah Rinjani is an absolute peaceful gateway.

Room Rates Lembah Rinjani Hotel:
Villa Hijau
(Room 1-4) Rp. 450,000

Villa Tiga
(Room 5-6) Rp. 450,000

Villa Tiga
(Room 7) Rp. 450,000

Villa Gazebo
(Room 8-10) Rp. 500,000

Extra matras Rp. 200,000

Room 1,2,8,10: queen size bed (180 cm)
Room 4,5,6,7: single bed (120 cm) with sliding bed
Room 3: two single bed (100 cm)

Check out time: 12.00 Noon

Rate may change without a prior notice

All rates include breakfast, service charge, and government tax.

The home stay has 10 double rooms with shower inside
Four rooms at the front row/Villa Hijau, three at the back row/Villa Tiga and another three/Villa Gazebo on the opposite of Villa Hijau.

Facilities
Room 1,2, 3, 4: table n desk, small cupboard, mirror, towel rack, a set of coffee table & chairs in the front terrace.
Room 4, 5, 6: Side table, small cupboard, mirror, towel rack. A set of bamboo chairs & table in the front terrace.
Room 8,9,10: small cupboard, mirror, towel rack. A set of bamboo chairs & table on both front terrace & back terrace

Shower Room
Shower, tub / bucket, western toilet, wash-basin.
Blanket, towel, soap are available. Please ask if you do not find them in your room.

Dining:
We serve the cuisine of Indonesia, the West and Asia. We can also prepare for group dining, please contact us to make arrangements for group meals.

Depending on the season, growing vegetables in the hotel, the Favorites Menu at the restaurant especially the Curried Chicken vegetable Rice Mix at Lembah Rinjani Hotel and Restaurant. Ask for a warm drink and our specialties, naturally spicy is sure to warm the cold at night in Sembalun Lawang.

If you have spare time arrived at Lombok in the morning, there are many activities you can do while you are in Sembalun Lawang areas. Like the strawberry plantation visit can plunk itself, traditional house village Sembalun Lawang, location of waterfalls in Sajang and other tourist attraction the day before the start of climbing from Sembalun Lawang.

To find out information packages to climb Mount Rinjani, started to climb from Sembalun regions Mace, please visit mount Rinjani climb Package 2 days 1 night, Mount Rinjani climb Package 3 days 2 night, Mount Rinjani climb Package 4 days 3 night, Mount Rinjani climb Package 5 day 4 nights, and Mount Rinjani climb Package 6 day 5 nights

There are many things that you can do while you are at Lembah Rinjani Home Stay & Restaurant
If there is a question of accommodation above please email us at info@trekkingrinjani.com
Price per person or sharing including the national park entrance fee, mount Rinjani, the Rinjani Trek Centre, tents, mattresses, sleeping bags, fresh vegetables, fresh fruit, bread, rice, eggs, cheese, noodles, coffee, tea, mineral water, chicken meat, if you exceed Baggage Transportation there will be an additional cost of Porter, if there is a request for a victory celebration, birthdays and holidays, we can provide within one week before you come to Lombok, if there is a request for a group or share them with other participants can we notify to the next period, preferably one month before arriving in Lombok, please let us know via email listed below, we will organize to save cost for sharing with a group of other participants

Contact our email at info@trekkingrinjani.com
Facsimile +62 370 631271
Our mobile phone or SMS: +62 812 376 1387
Our mobile phone or SMS: +62 817 369 010 (Whatsapp)
Office telephone: +62 370 631271
Contact person Mr. Satya Budi
Hiking and Trekking Mount Rinjani Lombok Island Indonesia
Offers tour packages to climb Mount Rinjani National Park in Lombok island and its surroundings. Offer as a guide specializing in private or in groups for all activities involving sport while recreation and adventures information package hiking, trekking, climbing, camping and cooking mountain Rinjani in Lombok Island, Indonesia, other more Hiking Pergasingan Hill near Mount Rinjani | Visit again to climb Mount Rinjani Package for domestic here! | Link: Mount Rinjani Trekking Package | Mount Rinjani trekking package 3 Days 2 Nights | Mount Rinjani trekking package 4 Days 3 Nights | Mount Rinjani trekking package 5 Days 4 Nights | Mount Rinjani trekking package 6 Days 5 Nights | Soft Hiking Pergasingan Hill
Trekking Organizer Mount Rinjani Lombok Island Indonesia
Company business license by Sasak Lombok Tours & Travel Agent: Kep. 47/BPU/V/92
Address: Jalan Cendrawasih No.8 Cakranegara, Nusa Tenggara Barat.
Code Pos 83231 Mataram, Lombok island, Indonesia.
Official Website: http://www.trekkingrinjani.com
Official Website: https://trekking-rinjani.com
Official Website: https://hikingrinjani.com
Wordpress Blog: https://trekkingrinjani.wordpress.com
Wordpress blog: https://hikingrinjani.wordpress.com
Wordpress blog: https://climbingrinjani.wordpress.com
Email: info@trekkingrinjani.com
Contact: Mr. Satya Budi
Mobile and Whatsapp: +62 817 36 9010
Photos Gallery Album at Facebook Page: https://www.facebook.com/climbingrinjani
Copyright ©Trekking Rinjani owned by Mr. Satya Budi
All above content copyright ©trekkingrinjani site owned and governed by Mr. Satya Budi since 1999.
In accessing the site ©Trekking Rinjani you must agree that you are only able to download the contents for personal gain which is not commercial.
You are not permitted to copy, broadcast the photos, titles, descriptions and the above material, download, store (in any medium), displays or played in public or adapt or change in any way with the content of this site is ©Trekking Rinjani with any purpose without first get written permission from ©Trekking Rinjani, many of the trekking organizer have been emulating copyrighted material that we made since 1999 by Mr. Satya Budi

Copyright ©Trekking Rinjani 2019. All rights reserved.